CNC Series : Sliding Double-column EDM (Ram type) M1510-2H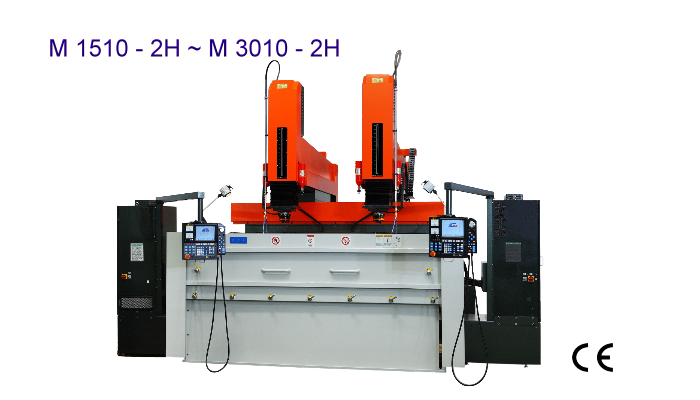 The X. Y& Z axes utilize AC servo motors.
Multi-cavities machining, ORBIT-CUT machining & Helix machining.
A.T.C. (Automatic Tool change) & C-axis machining available.
The Circle Angle of Sparking is lower than 0.02mm.
The best surface roughness (Ra) is better than 0.1 µm.
Multi-side ORBIT-CUT machining for X, Y & Z axis
High speed and long distance jumping.
Special rib shape machining function.
X, Y-Travel

Z-Travel

Table Dimension

Work Tank Dimension

Max. Table-Quill Distance

Max. Electrode Weight

Max. Table Loading

Dielectric Tank Capacity

Filters

Machine Weight

Machine Height
| | |
| --- | --- |
| Ground Area | |
| | |
| --- | --- |
| Nominal Current | 90A / 5A , 120A / 5A , 150A / 5A , 180A / 5A , 240A/5A, 300A / 5A |
| Input Voltage | |
| Connected Rating | |
| Max. Stock Removal Rate | 600 / 800 / 1000 / 1200 / 1600 / 2000 mm³/min |
| Best Surface Roughness | |
| Best Electrode Wear Rate | < 0.2% ( specific equip.< 0.1%) |
| | |
| --- | --- |
| Standard accessories | Additional Equipment |
| Precision Electrode Clamps | ATC (Auto Tool Change) |
| Piezoelectric Light | C-Axis |
| Work Fastening Tool Kit | "EROWA" Chuck-Swiss |
| Magnetic Induction Oil Nozzle Base | 3R System Chuck-Swedish |
| Operation Manuals | Di-Electric Cooler |
| M.F.D (Fine Mirror Finish) | Electric Oil |
| X, Y, Z Axis Linear Scales (1μm) | Permanent Magnetic Chuck |
| | Automatic Fire Extinguisher |
| | Charge Coupled Device (CCD) |
*Machine available to be made by OEM/ODM or Customer's instructions/Designs. For more details, pls contact our sales.*
․ Networking monitoring CNC machine (option)